Real-Time snapshots of the current products from the Storm Prediction Center.  
Today's Tornado Outlook
This is the probability of a tornado within 25 miles of a point.  If the probability is 10% or great then a hatched area is drawn.  Strong tornadoes with a rating of EF2 or higher is greater.
---
Current Convective Watches
---
Current Mesoscale Discussions
SPC issues Mesoscale Discussions (MDs or MCDs) that focus on severe thunderstorm potential over the continental U.S. for the next 6 hours with an emphasis on the first 1-3 hours. SPC also issues MDs for mesoscale aspects of hazardous winter weather events including heavy snow, blizzards, and freezing rain. All MDs contain an areas affected line, concerning line, valid time, a paragraph for a summary, and a paragraph for a technical discussion, along with a graphical depiction of the highlighted area.
---
Convective Outlooks
The level of categorical risk in the Day 1-3 Convective Outlooks is derived from probability forecasts of tornadoes, damaging winds, and large hail on Day 1, and a combined severe weather risk on Days 2 and 3.
Day 1 Convective Outlook
---
Day 2 Convective Outlook
---
Day 3 Convective Outlook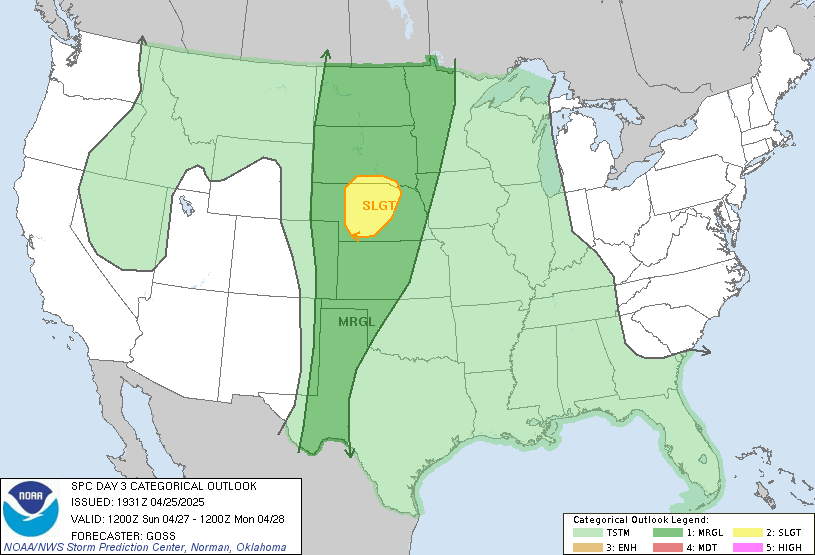 ---
Days 4-8 Severe Weather Outlook